Painted Travels | A Botanical Adventure

Papinelle's beautiful new Painted Travels capsule collection made with Liberty Fabrics captures the romance of the pioneering artist whose botanical paintings inspired this ultra-feminine floral print. It's a story of heritage, individualism, a woman living her happiest life, and the PJ's of our dreams…
What dreams are made of. Imagine for a moment, as you ready for bed (in your favourite Papinelle PJs, we hope) the adventurous life of a young Victorian woman boldly setting out by ship from England, portable easel and oil paints in hand, to destinations as far-flung and exotic at the time as India, Brazil, the Canary Islands, Japan, and Borneo, unaccompanied and—gasp—unmarried. The enchanting story of botanical artist Marianne North has to be one of the most inspiring tales of courage, vision, and determination to live an independent, fulfilling life. Long before the strong fearless females of our own time came the true stereotype-shattering pioneers like North, who defied every imaginable convention for a woman of that era. It's no wonder our new collection pays homage to her.

Born in England in 1830, the artist's curiosity about the great world beyond the British Isles was instilled from an early age while travelling widely with her family. Later, as a solo adventuress, she spent her life hopping from one continent to the next to capture their natural environments with her sketchpad and brushes. In 1880, during a stint in New Zealand and Australia, produced 300 botanical paintings that had even the great Charles Darwin in raptures about their vividness and beauty. Her contribution to botanical art and botany was such that various plant species have been named in her honour, while a visit to the Marianne North Gallery in London's magnificent Kew Gardens—she's been dubbed 'Kew's Forgotten Queen'—will reward with the startling array of work on display.
"
As a brand that prides itself in beautiful feminine prints, Liberty Fabrics makes the perfect partner for Papinelle.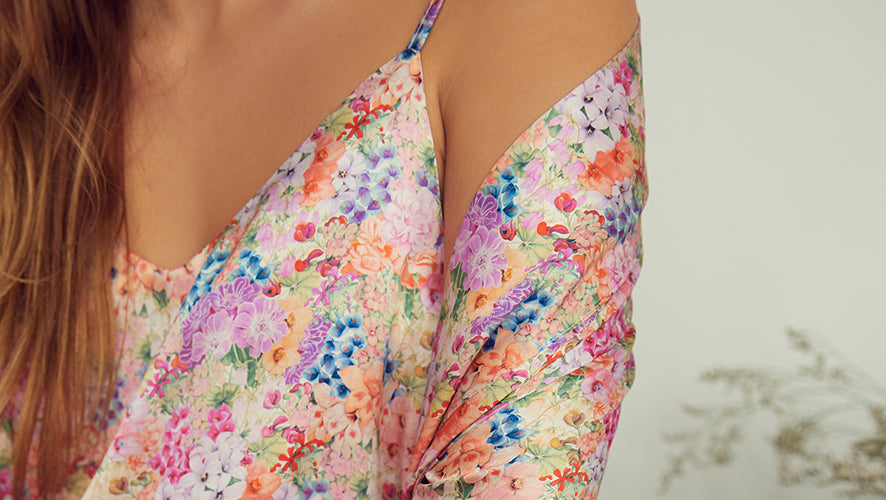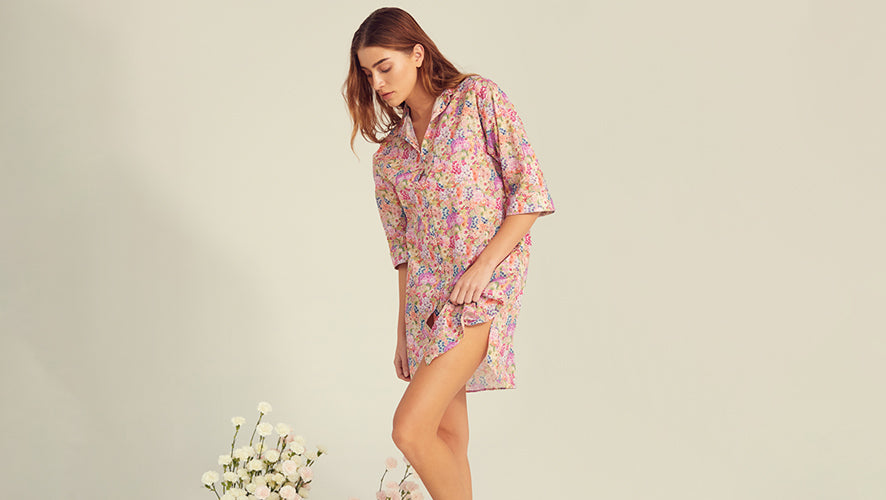 For its beautiful Painted Travels floral design, the Liberty Fabrics studio drew inspiration from North's incredible botanical artworks. This richly oil-painted floral design pays homage to her intrepid adventures, nonconformist lifestyle, and skill for the documentation of wild and exotic flora. The design forms part of Liberty Fabrics' English Creatives collection, which honours a selection of eclectic home-grown muses, spanning across a range of creative genres and historical periods, each reflecting the adventurous and disruptive spirit of this legacy brand. The Liberty Fabrics story is another that resonates with Papinelle's own deep appreciation for heritage, individualism, artistry, and inimitable design. Shortly after opening on Regent Street London in 1875, Arthur Liberty became renowned for his silks. By the 1890s Liberty Fabrics was a byword for the very best of avant-garde textile design. Today, every bolt of Liberty fabric is the product of a bespoke production process: hand-drawn or painted by the in-house design team in London, Soho. Transformed onto fabric at Liberty's own Italian printing mill, near Lake Como. Liberty Fabrics are created by skilled technicians who oversee the production of over 300 different designs every year.

'Liberty Fabrics' Painted Travels is lustrously detailed and rich in colour –printed in Liberty's Italian fabric mill, in its inimitable Tana Lawn cotton. Made from specially selected ultra-fine, long-staple Egyptian cotton, its bespoke process has been fine-tuned by Liberty Fabrics experts over the last 100 years. The qualities of the weave provide a brilliant base material on which to print Liberty's lustrous textile designs. A famous masterpiece of fabric technology, Tana Lawn™ is fine, cool and durable with a silk-like feel. What better way to bring an artful close to your day...
"
"As a brand that prides itself in beautiful feminine prints, Liberty Fabrics makes the perfect partner for Papinelle,". "Liberty Fabrics is a true design institution and the epitome of textile design. When their world-renowned fabrics are combined with Papinelle's knowledge of sleepwear, it results in garments with a uniquely beautiful aesthetic and exceptional quality."